Part 1: Retrieve Passwords Used on Computer with Command
This is the easiest and the most efficient way to retrieve your password on compter with the command, here's what you can try:
Step 1:
Log on to your PC computer with an administrator account. Then open the "Start" menu and click on the "Run" button.
Step 2:
Type "rundll32.exe keymgr.dll,KRShowKeyMgr" into the text box and hit "OK." The Stored User Names and Passwords box will open and you will be able to see the saved passwords and user names.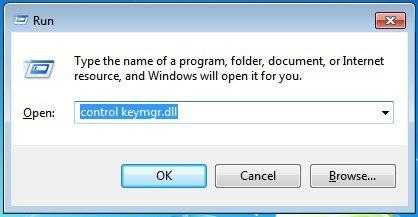 Part 2: Find Hidden & Saved Passwords in Windows via Windows Credential Manager
The Windows Credential Manager (called Windows Vault) helps you store credentials such as user names and passwords you used to sign in to websites. However, the credentials are stored in an encrypted format, but can easily be decrypted using your Windows password. If you forgot Windows password, refer to Windows Password Recovery tool for help.
Click on Start and type in credential manager to open the program. You can see two categories: Web Credentials and Windows Credentials as below.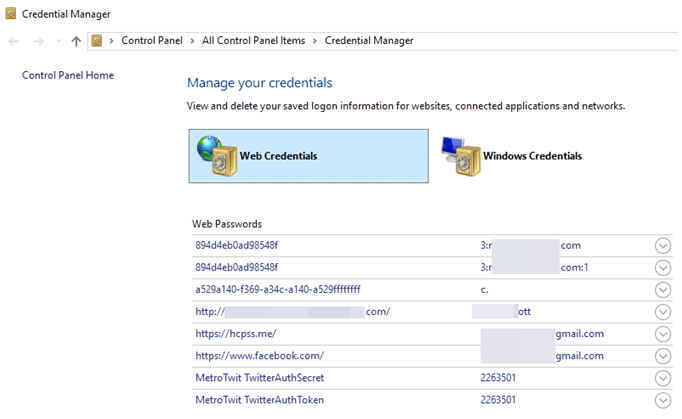 The web credentials will have any passwords from sites that you saved while browsing in Internet Explorer or Microsoft Edge. Click on the down arrow and then click on the Show link. Type in your Windows password in order to decrypt the password.

Part 3: Recover Lost Windows Password using Windows Password Recovery Tool
What if you lost Windows login password, what could you do? Actually, you can try the Windows Password Recovery tool to find the password you ever used on your computer. This excellent Windows password recovery tool can help retrieve dozens of types of passwords such as Windows login passwords on Windows 10/8.1/8/7 and find account password typed in your computer browser.
Free Try Windows Password Recovery Tool
World's 1st Windows Password Recovery Software to Reset Windows Administrator & User Password.
Step 1:
Firstly, free download and install Windows Password Recovery Tool Ultimate on any PC you're able to access to.
Step 2:
Choose "CD/DVD" and specify the CD burning drive. Then Insert a blank CD/DVD/USB disk into the computer. Hit "Burn" to start burning. After successfully burned, click "OK" and eject CD/DVD.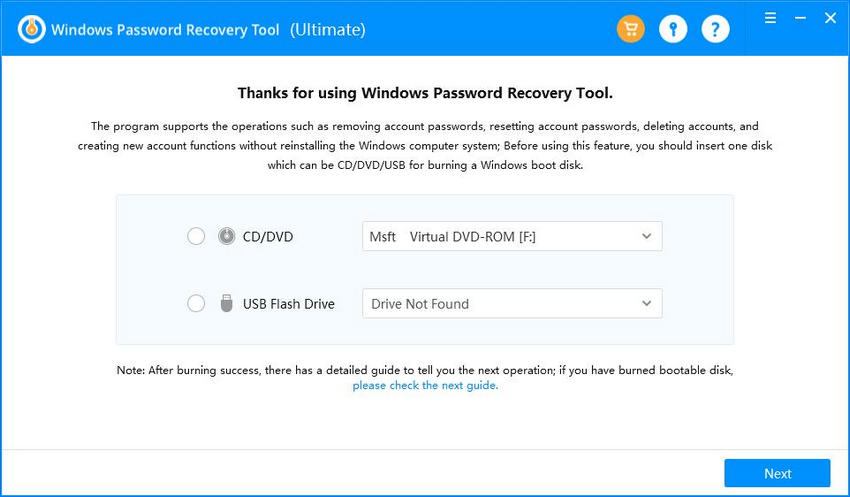 Step 3:
Insert the bootable CD/DVD or USB Flash Drive you just burned into your computer and reboot your computer. Then select the Windows installation you would like to recover the password, and then choose "Reset your password". Click "Next" to proceed.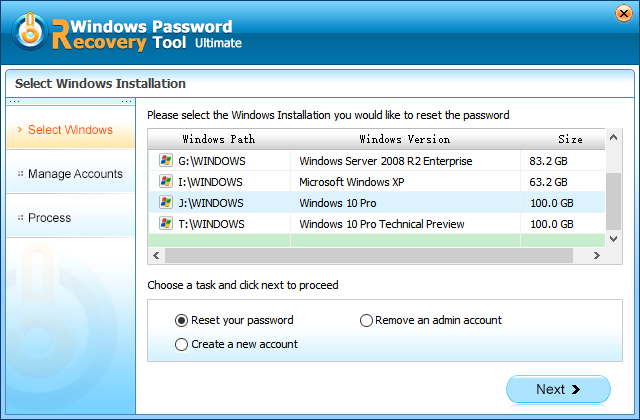 Step 4:
Select the target user account whose password you want to reset. After that, type in the password in the "New Password" box.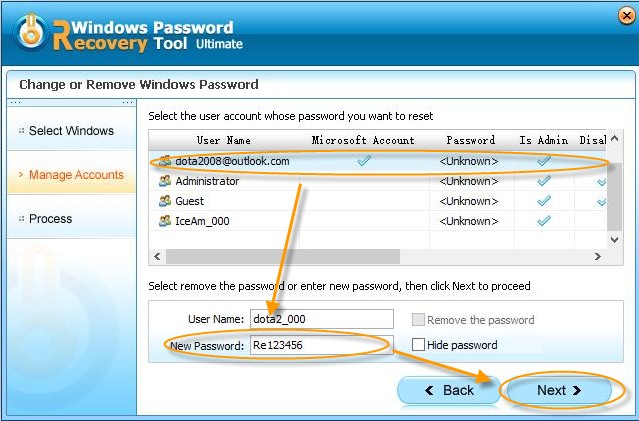 Step 5:
Click on "Restart Now" button to let the computer reboot, you can then log back into your computer with a new password.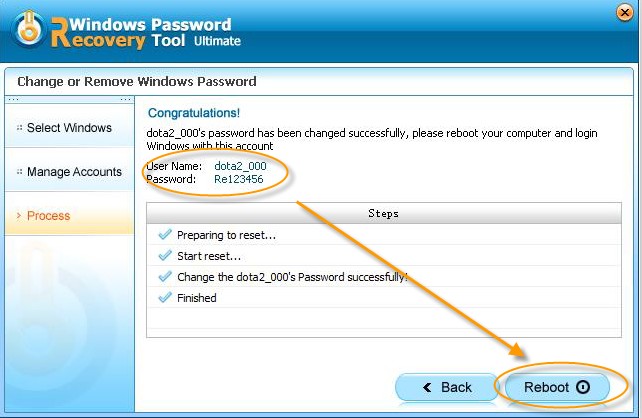 Hope you learned a better way to retrieve lost password used on computer. Please do not misuse in any ways. Meanwhile, you can write your comment if have any question.
Free Try Windows Password Recovery Tool
World's 1st Windows Password Recovery Software to Reset Windows Administrator & User Password.
How to Find Hidden & Saved Passwords in Windows 10
For years users have wanted to save time and effort when accessing servers on the network, Web sites requiring credentials, etc. So, there have been options in the operating system to save usernames and passwords for faster and easier access. I am sure you have seen this, either in a prompt or a checkbox, asking you to save the password. In Windows, you have the ability to store the credentials for resources that you access often, or just don't want to have to remember the password.  Although this is a time-saving option, you might want to reconsider using this feature due to security issues.
Windows stores the passwords that you use to log in, access network shares, or shared devices. All of these passwords are stored in an encrypted format, but some passwords easily are decrypted using your Windows login password.
Windows stores the login credential details in a hidden desktop app named Credential Manager. Here is how to find this app, how to see which credentials are stored by Windows and how to manage them:
What is the Credential Manager?
Credential Manager is the "digital locker" where Windows stores log-in credentials like usernames, passwords, and addresses. This information can be saved by Windows for use on your local computer, on other computers in the same network, servers or internet locations such as websites. This data can be used by Windows itself or by programs like File Explorer, Microsoft Office, Skype, virtualization software and so on. Credentials are split into several categories:
Windows Credentials – are used only by Windows and its services. For example, Windows can use these credentials to automatically log you into the shared folders of another computer on your network. It can also store the password of the Homegroup you have joined and uses it automatically each time you access what is being shared in that Homegroup. If you type a wrong log-in credential, Windows remembers it and fails to access what you need. If this happens, you can edit or remove the incorrect credential, as shown in later sections of this article.
Certificate-Based Credentials – they are used together with smart-cards, mostly in complex business network environments. Most people will never need to use such credentials and this section is empty on their computers. However, if you want to know more about them, read this article from Microsoft: Guidelines for enabling smart card logon with third-party certification authorities.
Generic Credentials – are defined and used by some of the apps you install in Windows so that they get the authorization to use certain resources. Examples of such apps include OneDrive, Slack, Xbox Live, etc.
Web Credentials – they represent login information for websites that are stored by Windows, Skype, Internet Explorer or other Microsoft apps. They exist only in Windows 10 and Windows 8.1, but not in Windows 7.
How to open the Credential Manager in Windows:
The method that works the same in all versions of Windows. First, open the Control Panel and then go to "User Accounts  –>Credential Manager."
You'll notice there are two categories: Web Credentials and Windows Credentials. The web credentials will have any passwords from sites that you saved while browsing in Internet Explorer or Microsoft Edge. Click on the down arrow and then click on the Show link.
You'll have to type in your Windows password in order to decrypt the password.
f you click on Windows Credentials, you 'll see fewer credentials stored here unless you work in a corporate environment. These are credentials when connecting to network shares, different computers on the network, or network devices such as a NAS.
In the same way, I'll also mention how you can view Google Chrome saved passwords. Basically, each browser has the same feature, so you can do the same thing for Firefox, Safari, etc. In Chrome, click on the three dots at the top right and then click on Settings. Scroll down and then click on Passwords.
Under Passwords, enable Offer to save your web passwords. You can view the saved passwords.
History of the Credential Manager:
According to a 1996 Network Applications Consortium (NAC) study, users in large enterprises spend an average of 44 hours per year performing login tasks to access a set of four applications. The same study revealed that 70 percent of calls to companies' Help desks were password-reset requests from users who had forgotten a password.
Single sign-on (SSO) is an approach that attempts to reduce the time users spend performing login tasks and the number of passwords users must remember. The Open Group, an international vendor and technology-neutral consortium dedicated to improving business efficiency, defines SSO as the "mechanism whereby a single action of user authentication and authorization can permit a user to access all computers and systems where that user has access permission, without the need to enter multiple passwords"
SSO solutions come in two flavors: solutions that deal with one set of user credentials and solutions that deal with multiple sets of user credentials.
A good example of the first type of solution is a Kerberos authentication protocol-based SSO setup.
A good example of the second type of solution is the Credential Manager. Credential Manager is a new SSO solution that Microsoft offers in Windows Server 2003 and Windows XP. It's based on a secure client-side credential-caching mechanism.
The Windows 2000 (and earlier) requirement that users must re-enter the same credentials whenever they access resources on the same Internet or intranet server can be frustrating for users, especially when they have more than one set of credentials. Administrators often must cope with the same frustration when they have to switch to alternative credentials to perform administrative tasks. Credential Manager solves these problems.
Conclusion:
Browser-stored passwords make it easy for hackers to get inside your network
allowing a browser to "remember" passwords can pose a major security risk because:
Password recovery tools can easily find these passwords.
Browsers typically do not use strong encryption for these passwords.
Users do not monitor and rarely change these passwords once they store them in their browser.
DO NOT USE THE "REMEMBER PASSWORD" FEATURE ON APPLICATIONS SUCH AS WEB BROWSERS (Google Chrome, Mozilla Firefox, Safari, Internet Explorer etc.)
For IT Admins:
Get your FREE Browser-Stored Password Discovery Toolfrom Thycotic to quickly and easily identify risky storage of passwords in web browsers among your Active Directory users. You get reports that identify:
Top 10 common machines with browser-stored passwords
Top 10 common users with browser-stored passwords
Top 10 most frequently used websites with browser-stored passwords
The Browser-Stored Password Discovery Tool is free. You can re-run the Browser-Stored Password Discovery Tool at any time to identify browser password risks and help enforce compliance with web browser security policies
View Saved WiFi Passwords On Windows 10
The Credentials Manager, unfortunately, doesn't let you view your saved WiFi passwords. However, there are two other ways you can use to access the Windows saved passwords for your wireless networks.
These methods should let you access passwords for all the WiFi networks you've ever connected to.
Use Command Prompt To Reveal Saved WiFi Passwords
The Command Prompt utility lets you perform a number of tasks on your computer, and one of these is to let you view your saved WiFi passwords. It can be used to retrieve a list of all of your networks, and then you can choose the network you want to view the password for.
You're basically going to just copy and paste the commands, so even if you haven't used the tool before, you should still be fine.
Search for Command Prompt using Cortana search and click on Run as administrator.
Type in the following command into the Command Prompt window and press Enter. It'll show the WiFi networks it has saved passwords for.

netsh wlan show profiles
Note down the WiFi network name you want to find the password for.
Type in the following command replacing NAME with your WiFi network's name and hit Enter.

netsh wlan show profile name=NAME key=clear
Look towards the section that says Security settings. Here, you'll find an entry saying Key Content. The value next to it is your WiFi password.
Use An App To Access Saved WiFi Passwords
If you need to access your saved WiFi passwords too frequently, the command line method isn't ideal for you as it requires you to type in a command each time you want to view a password. A better option would be to use a third-party app that lets you easily and quickly reveal your Windows saved passwords.
One of these apps is WiFi Password Revealer by Magical Jelly Bean. It's a free app you can use on your Windows 10 computer to view your WiFi passwords.
Download and launch the app on your computer.
It'll immediately scan and display all the WiFi passwords it could find on your screen.
If you want to copy a password, right-click on it in the app and select Copy selected password.
View Windows Vault Passwords Using An App
Some of the Windows saved passwords are stored in Windows Vault on a Windows 10 computer. If the password you're looking for is located there, then you can use a free app to find and reveal it on your machine.
There's an app called VaultPasswordView that lets you access all the passwords saved in the Windows Vault on your machine.
Download and launch the app on your machine.
Use the Root Folder dropdown menu to select your root folder. Then click on the Automatic Fill button to auto-fill some of the options on the screen.
Enter your account password in the Windows Login Password field and hit OK.
You should be able to view your Windows Vault saved passwords.
Delete Saved Passwords On Windows 10
Since your computer saves most passwords that you use on your computer, it may even have the passwords that you don't actually use. If you want, you can delete these saved passwords on your Windows 10 computer.
These can be deleted from the Windows Credentials Manager on your PC.
Launch Windows Credentials Manager from Control Panel.
Click on the arrow icon next to the password you want to delete.
Select the option that says Remove at the end of your credential details.
It'll ask if you'd really like to remove the password from your computer. Click on Yes to continue.